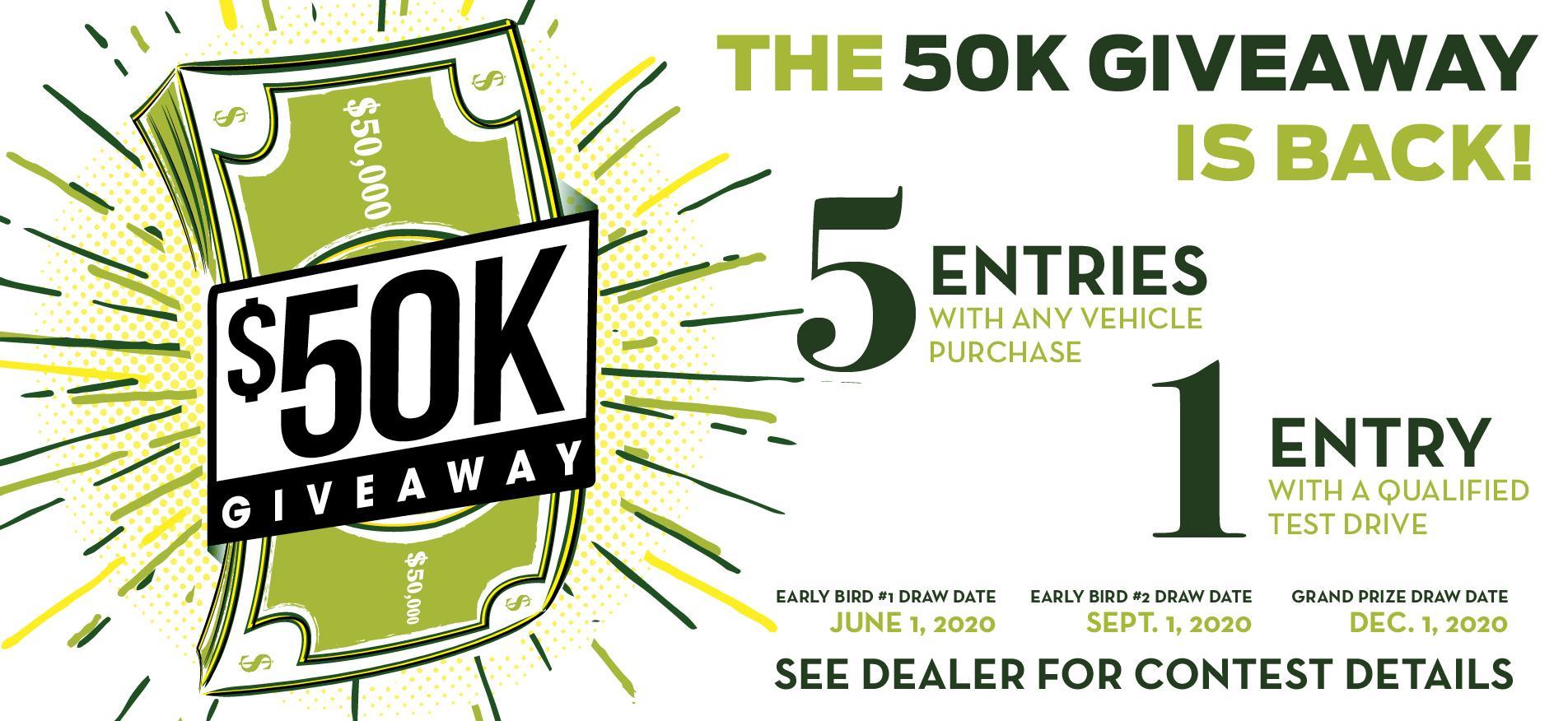 ABOUT THE CONTEST:
Lakeland Ford, in partnership with Lakeland Hyundai and Meadow Lake Chrysler are giving our customers the opportunity to win a share of a cash prize of $50,000 as well as two incredible early bird prizes.
By entering before June 1st, customers are eligible to win an ultimate getaway weekend to B.C. where they can choose between a spa weekend in Kelowna or salmon fishing on Vancouver Island. Customers that enter before September 1st get the chance to win a $5,000 gift card to any Lake Country Coop location. Lakeland Ford, Meadow Lake Chrysler, and Lakeland Hyundai will each choose a finalist who will attend the Grand Prize Event. At 1pm on Friday, December 18th at Lakeland Ford, via an unbiased draw, the 1st place winner will be awarded $25,000, the 2nd place winner will be presented $15,000 and 3rd place will be given $10,000.
CONTEST RULES & REGULATIONS
Questions, clarification or comments about these rules can be directed to info@wyantgroup.com
How to Enter: Contest period closes at date indicated on printed/online material. One (1) entry permitted per person, per qualified test drive and five (5) entries per purchase of a new or pre-owned vehicle. Any attempt to or suspected attempt to enter more than the aforementioned shall be deemed as tampering and will void all of your entries.
A qualified test drive is defined as a customer signing a test drive waiver before taking a 'for sale' new or pre-owned vehicle on a test drive while accompanied by a Lakeland Ford sales consultant.
By entering this contest, entrants consent to the use of their entry, name, place of residence and/or any photograph that may be taken in publicity carried out by Lakeland Ford or the Wyant Group and its advertising agencies, without further notice or compensation.
All entries that are incomplete, irregular, have been submitted through illicit means, or do not conform to or satisfy any condition of the rules may be disqualified by Lakeland Ford. Further, Lakeland Ford takes no responsibility for lost, stolen, delayed, damaged, misdirected, lost or destroyed entries, or for typographical or other production errors. Lakeland Ford is not responsible for any errors or omissions in printing or advertising this contest. All entries become the property of Lakeland Ford and will not be returned.
The winners of both Early Bird Draws will be re-entered into the Grand Prize Draw.
Eligibility
: This contest is open to residents of Canada who are 21 years of age or over excluding residents of Quebec and employees of Lakeland Ford, its parent and affiliated companies, representatives, dealers and agents, contest suppliers and judges, and those with whom they are domiciled.
Prizes:
a. Early Bird #1: $5,000 Ultimate Getaway Weekend in B.C.
b. Early Bird #2: $5,000 Coop Gift card.
c. 3rd Place Prize: $10,000.
d. 2nd Place Prize: $15,000
e. Grand Prize: $25,000
Claiming of Prizes: The winner may need to return a signed release of liability and acknowledgment form. Contest judges' ruling are final and without appeal in all matters related to the promotion and the awarding of these prizes.
If for any reason the winning entrant is deemed ineligible, another draw or draws will be made until a qualified, eligible winner is confirmed. Lakeland Ford reserves the right to disqualify any entrant, based on the contest rules.
Lakeland Ford will make arrangements with the winners for transfer of the prizes, within five (5) working days of each draw.
Privacy: Lakeland Ford is collecting personal data and entrants for the purpose of administering this Contest. No further informational or marketing communications will be received by entrants unless entrants provide Lakeland Ford with explicit permission to do so as indicated on the entry form. Please see Lakeland Ford Privacy Policy for information on its policy towards maintaining the privacy and security of user information.
Odds of Winning: The odds of winning are dependent on the total number of entries received.
Banning: Lakeland Ford reserves the right to prohibit entry from any person who we believe to be abusing the above rules. Abuse includes entering multiple times and entering false information. We realize that mistakes occur and make every effort to ensure that our contests are run in a fair manner. As such, we make an effort to contact people who are banned in order to explain what has occurred and to facilitate communication. However, sometimes this is not possible. If you have been banned and wish to discuss the situation, please contact info@wyantgroup.com.
Technical Errors: Lakeland Ford cannot be held responsible for technical failures on the part of contest software or human error which could result in inaccurate postings and notifications. Lakeland Ford is also not responsible for email notifications that are rejected or do not reach a contest winner. Lakeland Ford reserves the right to cancel a contest at any time or to correct results in order to rectify software errors.
Contest is subject to all applicable Federal, Provincials and Municipal laws.
These rules are subject to change without notice.